I love my polymer clay, especially Sculpey, so I don't plan to abandon my ventures with this versatile medium when my metal clay gets here. I really want to incorporate Sculpey into my metal clay pieces, so I thought I would show you guys some of the lovely pieces I found on Pinterest that combine metal clay with polymer clay.
These Machu Picchu earrings by
Christine Damm
are lovely and tribal looking. I love how the polymer clay adds color to these earrings! See more of Christine's work on her blog
Stories They Tell
. She makes the most lovely textured and colored polymer clay pieces.
How about this wonderful piece by
Staci Louise
of
Staci Louise Originals
? It is wonderful, like all of her other pieces. The bronze centerpiece is cast from a mold of a real fossil, and the black piece is polymer clay. She also incorporates drawing as texture with her metal clay work, and I love the handmade and artistic look of them. I did not realize how much of the pieces I like and have pinned are her pieces until I looked around her shop and blog.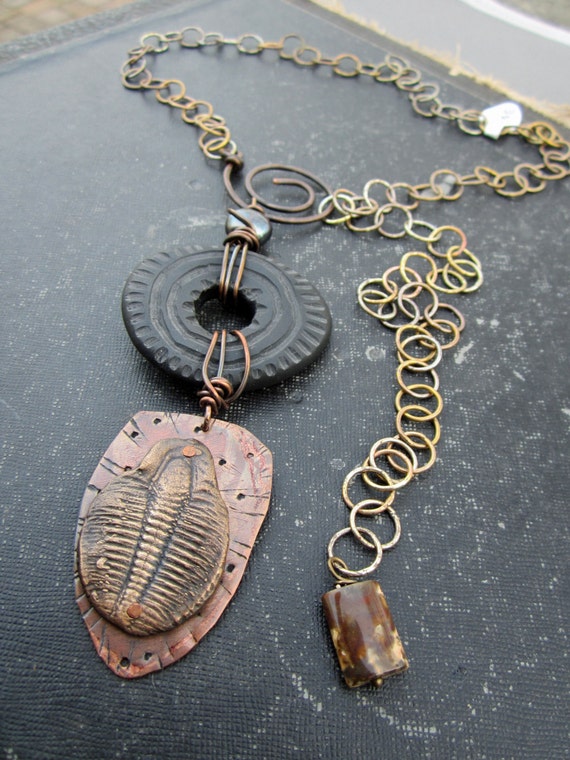 I also love this ring by Celie Fago. It is a ring made of PMC and polymer clay. See the back of the ring
HERE
. See more of her work on her
website
. Lovely and inspiring!
My loan went through and I got my debit card last week. I ordered everything I could off my list (and made a list for another day). I received some of my packages Saturday, and the remainder will be here Wednesday. I can't wait to get my kiln and get started!